Spinning out a number of firsts for the Tri-Lakes area, Ice Cave Cider House has generated remarkable momentum in their ongoing effort to provide, intentionally or not, the exciting and unique. First to market was their hard cider production, focusing on a fruit forward, dry English style of draft. Next came their ever increasing menu centered on thincrust pizzas — char kissed pies straight off the wood-fired oven. But we had come for the Colorado wine.
Most recently, the minds behind the cider house have brought us 174W, an "All Colorado Wine Bar." In what may be their most ambitious and laudable achievement yet, this space that adjoins the cider house, boasts 12 tapped selections of exclusively Colorado wines.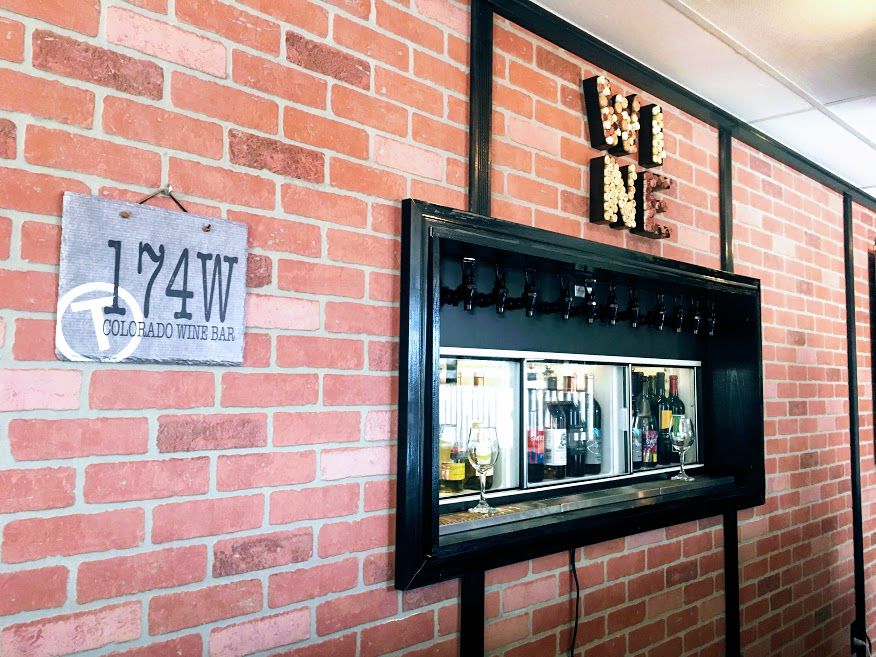 Okay, now we're excited. We can't overemphasize "tapped" and "Colorado" in conjunction with any wine conversation. To our knowledge, there is nowhere else on the Front Range that is doing this. 174W offers a rotating selection of wines that evidence the bourgeoning about-face within which Colorado winemakers currently find themselves.
For those unacquainted with the history of Colorado wine (those still distracted by established regions like France) it's currently reading much like California's fabled wine development of the late 20th century. Preference for sweet evolves to a preference for dry. Focus on quantity shifts to focus on quality. While that last part may have been more true of California's wine history, with Colorado wine firmly camped in the "boutique" genre, nevertheless it's a very welcome trajectory of growth and development. And almost nowhere is it more evident that here at 174W.
We sat down to sample four recommended pours that best exemplify where recent development of Colorado wines has landed. It's a true win for Colorado wine, to which we raise a glass and pontificate that it is truly an up-and-coming wine region.
This Viognier is pleasantly dry with notes of floral and fruit, such as green apple and pear. If no one had mentioned this Viognier was from Colorado, you'd never guess it. Rather, it harkens back lovingly to the grape's French origins.
Chill Switch Winery
It's not a bad day when your rosé tastes like Juicy Fruit candy. That's just fun. This rosé is made with Sangiovese in Cedaredge. With its dry finish after that candy beginning, it's a great example of the quirkiness that can be found in Colorado wines.
The Old World-esque Cabernet Franc boasts a gorgeous mouth-feel evoking visions of George Costanza droning on about draping himself in velvet. With robust and structured tannins, there is good hope that this Broomfield-based wine will age well.
It's surprising to find a Nebbiolo from a Colorado producer, or any other producer outside northern Italy. This grape is known to successfully grow in few locations beyond Italy's Piemonte region. This Palisade's winery, whose tagline claims a methodology "respectful, but unbound by traditions," is gambling with a notoriously temperamental grape varietal, to, in our opinion, varied success. In truth, little of Red Fox's offering is reminiscent of Piedmontese famous grape, making the noticeably higher price difficult to swallow. Nonetheless, what is clearly being demonstrated here, and across 174W's tapped offerings, is a remarkable shift in Colorado wine production.
For additional food-centric reviews and tips, or to make a comment, email On The Table at OnTheTableReviews@gmail.com, or visit facebook.com/onthetablereviews.
More Information
174W WINE BAR at ICE CAVE CIDER
174 Washington St., Monument
facebook.com/MonumentColoradoUSA
510-1636
Hours: Thursday, 3-9 p.m.; Friday-Saturday, 3-10 p.m.; Sunday, 4-8 p.m.
Wine pour prices: $6.50-$13
What you need to know: The best representation of the new trajectory of Colorado wines, all on 12 rotating taps.