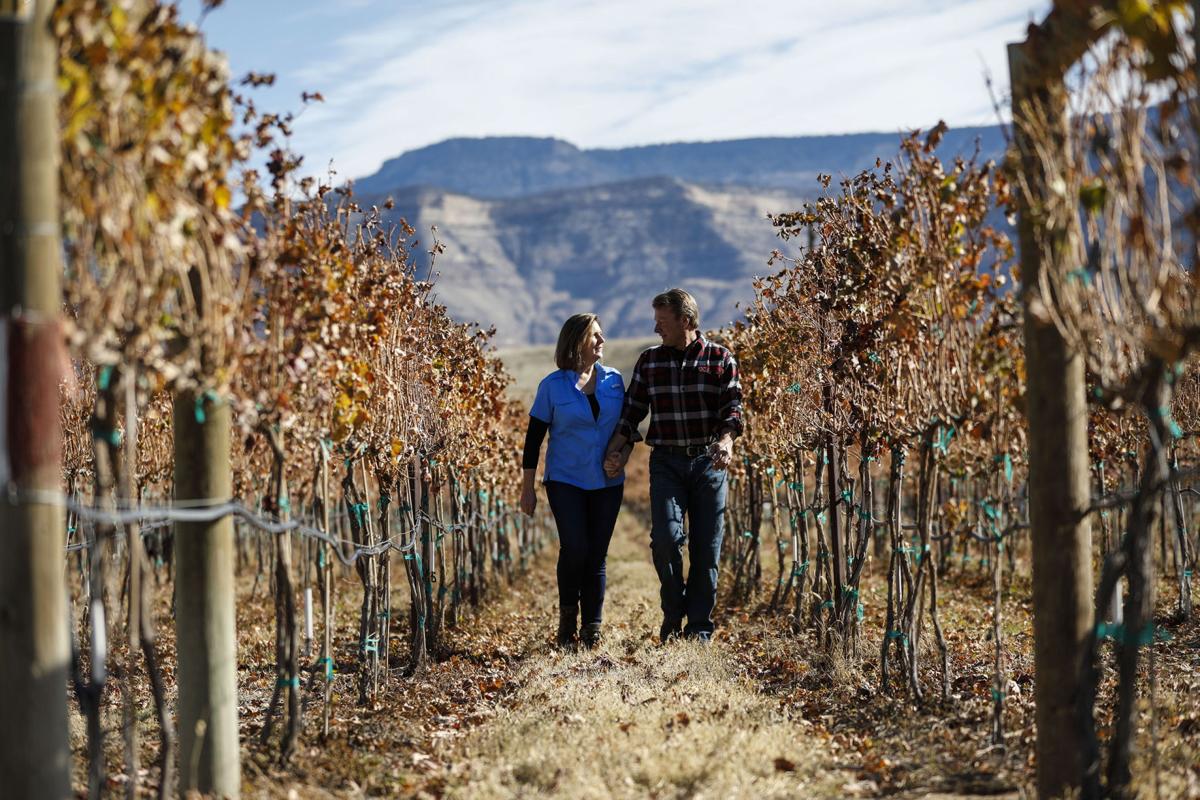 Neighbors used to call it the "stick vineyard."
But Linda and Gary Brauns knew how to bring a property back to life, even if they didn't intend on being the ones to turn the dying vineyard into a winery. However, plans changed when Linda started learning how to make wine and a two-year fix-and-flip project turned into a six-year restoration effort.
"We didn't know anything about making wine, but we drank a lot of wine," Linda said of their lives before the vineyard.
The Brauns saw their effort bear fruit in mid-September when they opened Restoration Vineyards on East Orchard Mesa, 3594 E ½ Road. The 10-acre vineyard is part of the Palisade area's newest winery and an example of the collaboration between the businesses in the wine community.
The tasting room is open from 11 a.m. to 5 p.m. seven days a week and the Brauns have plans to grow, adding more wines and hosting events as they move forward.
Restoration projects have been a common theme in the adult lives of Linda and Gary. The two have flipped houses as a way to make money, and Gary has spent much of his career repairing and restoring classic Mercedes Benz cars made before 1972.
"It's our biggest project yet," Linda said of the vineyard. "We're trying to build a destination for people to come and have great wine, great views and meet good people."
The cars are a theme at the vineyard as two old Mercedes are parked along E ½ Road just before the entrance. Several other classic cars are lined up through a small roundabout just outside the tasting room. A new black barn that Gary built on the property is filled with car parts and cars in various stages of restoration, Gary said.
Gary and Linda lived in Evergreen when they bought the vineyard in 2012. The vines were planted in 2007 but never really thrived, Linda said. Initially thinking that the entire vineyard would have to be replanted, Linda and Gary were referred to Bruce Talbott at Talbott Farms for advice. He turned them on to an irrigation method that brought back 80 percent of the grapes that year.
After two poor years because of weather, the Brauns had a good crop in 2015 and by then had fallen in love with the area and decided to make a go of winemaking. Linda — who had previously worked as the vice president of finance for the Starz movie channel — immersed herself in reading about winemaking and had a crash course in the art from John Barbier at Maison La Belle Vie Winery.
Barbier said he was happy to help out.
"We need more good wineries and they are one of them," he said. "When you have good people, they deserve to be helped."
Linda also attended VinCO, a conference hosted by the Colorado Association of Viticulture and Enology, where she received some tips and connected with other winemakers in the area.
Today, Restoration Vineyards has three variety of wines — barbera, chardonnay and cabernet franc. Three more are on the way, as the vineyard had six different types of grapes when it was planted. Linda said the previous owner chose the grape selection and was a fan of barbera, an Italian grape that is less common in Palisade.
The biggest surprises about the wine business, Linda and Gary said, are the amount of cleaning it takes and the variety of directions she can choose.
The winemaking process is about 90 percent cleaning and 10 percent winemaking, Linda said. And the different directions can really allow winemakers to put their stamp on a wine.
"It's just preferences," Gary said. "We know what we like and we try to emulate that."
For the first couple of years owning the property, Linda and Gary commuted from their home in Evergreen. Both said they would have sold it if not for the welcoming community in Palisade.
When in town, the Brauns first met Theresa High at Colterris, whose overlook location is just up the road from Restoration Winery. High was very helpful in getting them in touch with Talbott.
High said she was just being neighborly.
"The area is so beautiful, it lends itself to a neighborly feel," she said. "It's too beautiful to do anything other than enjoy it with neighbors."
Others in the business have followed suit. Many of the first visitors to Restoration were from other wineries or fruit stands in Palisade and East Orchard Mesa.
This is common for the area, High said, as some businesses tend to help out one another in hopes that the growth of wine business will help everyone in the long run.
"It looks so much better from outside in when people can suggest their neighbors," High said.
BY: JOE VACCARELLI