Statesman: A person who shows wisdom, skill and vision in conducting state affairs and dealing with public issues.
Look up the word "statesman" in the dictionary and you might see a picture of Tillie Bishop.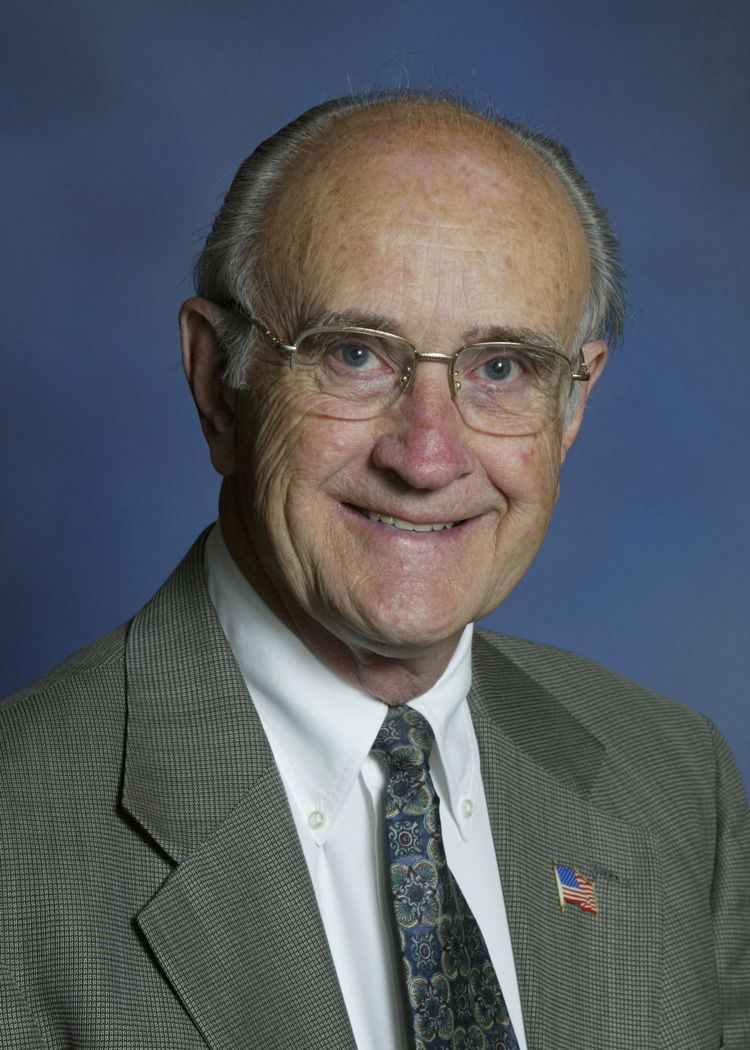 Representative Bishop. Senator Bishop. Commissioner Bishop. Regent Bishop. Trustee Bishop. People who knew him well didn't have to struggle to find something extraordinary to say about the longtime public official and community champion who died last week at the age of 86 after bouts with cancer and Parkinson's disease.
Even in the few times when he didn't have a title before his name, Bishop could be counted on to offer sage advice to younger lawmakers. Oftentimes, those people would seek it out.
"I went to visit him one day in February, and I felt even then it might be the last time I would see him," said Rep. Janice Rich, a Grand Junction Republican who represents the same House district that Bishop did. "He was always saying, 'Try to work across the aisle. You can find common ground if you just take your time. Not everything has to be a fight.' Tillie being Tillie still worked with everyone, but didn't give up on his principles in doing it. I really admired him for that."
Born Tilman Malcolm Bishop in Colorado Springs early in the Great Depression on New Year's Day back in 1933, the most spoken words by those defining him were "true statesman."
First elected to the Colorado Legislature in 1970, Bishop spent 28 years there, four in the Colorado House and 24 in the Senate, making him the fourth longest serving legislator in the state's history.
During much of that time, he also worked as an administrator at what then was known as Mesa Junior College. Ironically, he would end his career as a trustee at that same institution, now known as Colorado Mesa University.
Its president, Tim Foster, knew Bishop from the beginning of his political career to the end of his life. Foster worked on Bishop's first campaign when he ran for the statehouse. Foster later served with Bishop in the Legislature when he, too, was elected to the House starting in 1988. By then, Bishop was already a legend in the Senate. Years later, the two Republicans would work together again when Bishop was appointed to the CMU Board of Trustees in 2012, a position he held until his death June 16.
"He was in the middle of everything," Foster said. "He was the quintessential legislator, statesman. Just a good guy."
Like many others, Foster said Bishop knew the difference between policy and politics, caring more for the former and really disliking the latter.
His sense of bipartisanship was evident during his years in the Legislature. At the time, Republicans had a comfortable majority so Bishop didn't have to seek Democratic support for anything.
"It was a different Republican Party back then, where government wasn't the evil thing, it was something that could do good things," Foster said. "He was for limited government, but at the same time government had its place. Preserving the outdoors and doing outdoor rec, he was way ahead on those sorts of things."
Foster and Bishop worked on many bills together during their shared time under the golden dome, one of which was the creation of the Colorado Wine Industry Development Board. At the time, there was no concerted effort to promote and help grow the wine industry, and doing so helped boost economic development in the Grand Valley.
"Until then, the concept of somebody coming in and you pouring them a glass of wine without a full-blown liquor license, it was cutting edge at the time that we would deign to do that," Foster said.
Bishop also was instrumental in the creation of Great Outdoors Colorado, getting legislators from both sides of the political divide to put that issue on the ballot in 1992, and helping to get voters to approve it.
Since then, GOCO has provided more than $1.2 billion in grants from Colorado Lottery proceeds to more than 5,200 outdoor projects in all 64 counties.
Former Secretary of State and Grand Junction Rep. Bernie Buescher, a Democrat, said Bishop also was "incredibly proud" of his work on helping to free prisoners in the former Soviet Union.
In 1980, Bishop teamed up with then Democratic Rep. Jerry Kopel to pressure the Soviet Union to free three political prisoners. All three were eventually released, although one was later rearrested.
"He had a right to be proud of his very quiet leadership in the Senate," Buescher said. "I can't tell you how many times I called him and just asked for his advice. He transcended party stuff. In fact, I don't think he even liked the party stuff at all. If it was good policy, Tillie was on it."
One thing Bishop didn't like was tomfoolery on campus back when he was dean of students at Mesa State, Foster said.
For decades on college campuses across the country, one of the biggest pranks for students to pull were panty raids, something Bishop was dead set on ending, Foster said.
"He actually would tell you the story that he stopped them, and how the girls would say, 'No, no, let them come,' " Foster said with a laugh.
One of the male students who used to engage in those raids would later go on to a full career in education, and eventually replace Bishop on the University of Colorado Board of Regents.
At the time, now CU Regent Glen Gallegos was a young, impressionable 18-year-old who, because of his size and distinctive look, was easily identified as a culprit. That's how Gallegos met Bishop and then director of housing Jay Jefferson, who later went on to be Mesa State's athletic director.
"We got caught," Gallegos said. "So I had to go in and talk with Tillie and Jay Jefferson. They read me the riot act. They had me pretty scared. He said, 'Get out of here, young man. If I ever see you in here again, you're in trouble.' When I came back to be part of the (District 51) school district in 1989, I ran into Tillie and he remembered that incident. He said, 'You know what? I could have put an end to your college career.' We laughed."
After leaving CMU and the Legislature, Bishop was elected to the Mesa County Board of Commissioners, where he served one four-year term. Following that, he was elected as a CU regent in 2006 representing the 3rd Congressional District for a single, six-year term.
A former high school teacher, Bishop earned his bachelor's and master's degrees in education from the University of Northern Colorado in Greeley, and has done other post-graduate work at Colorado State University in Fort Collins and the University of California at Los Angeles. In 1987, he was a Gates Foundation Fellow at the John F. Kennedy School of Government at Harvard.
He also was active with numerous boards and civic groups, including the Western Center for the Arts, the Great Outdoors Colorado Trust and the Grand Junction Lions Club. He also liked small game hunting, fishing and numismatics (coin collecting).
"Tilman Bishop was a wonderful educator, legislator and regent," said CU Chancellor Phil DiStefano. "As a regent, he always put the best interests of the university ahead of any personal or political agenda."
Bishop also has some things in the region named after him, including the Tilman Bishop State Wildlife Area on the south side of the Colorado River from Palisade's Riverbed Park, and the Bishop Health Sciences Building at CMU's Western Colorado Community College.
His only child, Barry Alan Bishop, died of cancer in 2008.
On Tuesday, Foster, the CMU Board of Trustees and Bishop's wife of 67 years, Pat, are hosting a memorial service at the university's Escalante Hall. Memorial contributions may be made to the Tilman and Pat Bishop Endowed Scholarship at the CMU Foundation, 1450 N. 12th St., Grand Junction 81501.
On that day, Gov. Jared Polis is to order the state flag to be flown at half staff in honor of Bishop and his life.