The last weekend in September is a great time to plan a road trip to Cañon City. The occasion? Harvest Fest at The Winery at Holy Cross Abbey. Now in its 17th year, the event continues to draw crowds by offering wine tastings, music and food in a beautiful setting.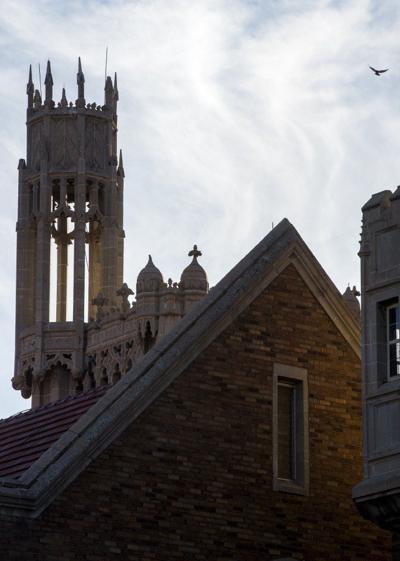 Here's a look at what to expect this year.
The Wine Maker's Dinner kicks things off on Sept. 27 and is one of the hottest tickets. Beau Green, executive chef for Service Systems Associates, a food service company for Cheyenne Mountain Zoo, and guest chef for this dinner, goes all out creating Colorado-themed dishes to pair with specially selected, award-winning Abbey wines crafted by winemaker Jeff Stultz.
Four years ago, Winery owner Larry Oddo and Sally Davidson, vice president of marketing, moved the dinner's location from Cañon City to the Royal Gorge Bridge and Park's Cafe 1230, which is situated 1,230 feet above the Arkansas River. They also decided not to have a plated seated dinner served in courses. Rather they call it a progressive food and wine tour with 10 courses set up at tasting stations where diners can graze around the selections.
"This year, for the fifth dinner, we thought it would be amazing to bring back some of our favorite dishes from prior years and create a 'greatest hits' menu," said Davidson. "Additionally, we thought, why not give our loyal customers some say in the matter with a survey for people to vote on dishes."
Here's what fans decided would be on this year's menu: pork belly musubi, chile lime marinated watermelon wafer with ahi tuna, roasted chicken nicoise, jumbo lump crab cake, miso trout, black and blue bison burger, sticky lamb rib with dan dan noodle, crispy duck with brown butter sage gnocchi, braised beef short rib and chef's choice chocolate eleganté. Cost is $125. Free transportation is available to and from Cañon City. Call 877-422-9463 or email info@abbeywinery.com.
Every year, Davidson invites an author of food, wine, beer or spirits books to headline the festival. This year Denver- based author Simone FM Spinner, who published "Denver Food: A Culinary Evolution" in 2018, will speak and sign books. The book covers Denver's food landscape dating back to the 1800s, when the hunt for gold brought German, Japanese, Chinese and Italian immigrants and their cuisines to the Rocky Mountains.
Spinner holds sommelier credentials from Wine & Spirits Education Trust, Court of Master Sommeliers, Spanish Wine Academy and the Society of Wine Educators. She is scheduled to sign books 11 a.m. to 4 p.m. Saturday and Sunday, Sept. 28 and 29.
Wine connoisseurs can sample a limited wine release of Harvest Fest's Riesling along with other wines produced at the winery. The tasting room offers more for sale than just wine. You'll find linens from Provence; pottery from Spain, Tunisia, Portugal and France; and a vast array of food, wine and travel books.
Food selections at the festival include local produce, cheeses, wood-fired pizzas, fajitas, roasted chiles and fresh-baked breads.
Entertainment includes bands — Mistura Bela (Brazilian jazz), Deja Bluz Band (rock), Inman Brothers Band (Southern rock) and Hammerstadt (jazz fusion) — and a Fun Zone and face painting for kids.
Harvest Fest takes place from 10 a.m. to 6 p.m. Sept. 28 and 10 a.m. to 5 p.m. Sept. 29 at 3011 E. U.S. 50. Admission is free, with plenty of parking available. No pets allowed. Details: 719-276-5191, abbeywinery.com.
Contact the author of this article: 636-0271.