Dave Buchanan | Daily Sentinel of Grand Junction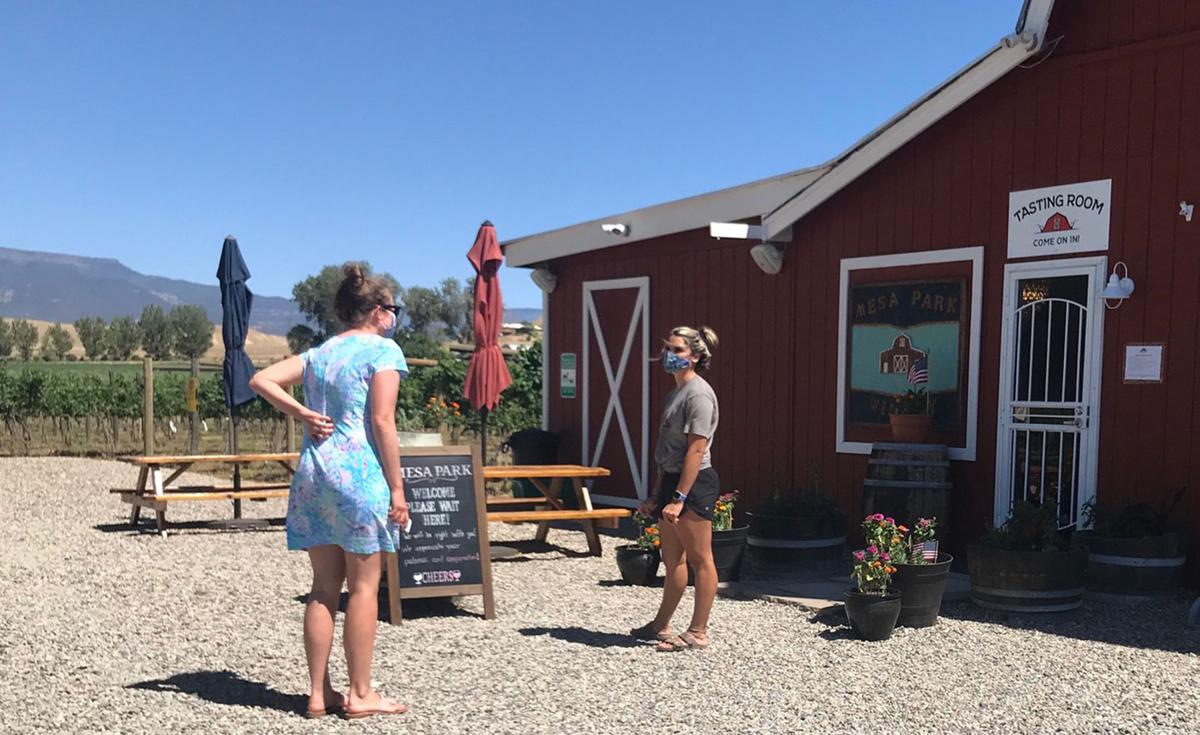 Thanks to some forward-thinking efforts by local wineries, brewers and distillers, and cooperation from county and state agencies, the Grand Valley's wine industry is open.
Many of the wineries here and in the North Fork have been open (on a limited basis, at times) since late May, and the rest of the state is hurrying to catch up.
Open, yes, but seating capacity is limited so it's wise to call or check the respective websites before heading out, particularly if your group is larger than five.
These are not normal times — do you even remember "normal"? — and winemakers are abiding to a long list of state and county requirements and recommendations, all concerned with slowing the spread of COVID-19.
A few of the challenges include maintaining the 6-feet spacing, much easier in summer with outside seating; limited occupancy, usually 50%; keeping bars and high-touch areas clean, which means regular and frequent attention; and even how best to serve the wine without too much contact.
Laura Black at Mesa Park Vineyards in Palisade has opted to give away the stemless wine glass used with each tasting, while Brent Helleckson at Stone Cottage Cellars near Paonia uses in-bottle pourers and puts used glasses, plates and flatware through a 125-degree hot-water and Peroxyclean wash.
"We handle (everything) with disposable gloves while wearing a mask," he said.
Following suggestions from the Colorado Centers for Disease Control and Prevention and the state Department of Health and Environment that areas such as doorknobs, banisters and railings be cleaned regularly, "it seemed reasonable that a glass or fork that has been to someone's mouth ought to be treated similarly," Helleckson said.
Oh, yes, food — Mesa County wineries received a variance to the state rule requiring food being available during a tasting.
The variance, thanks to the efforts of the Colorado Association for Viticulture and Enology, the Colorado Distillers Guild, the Colorado Brewers Guild and the Colorado Cider Guild, allowed member establishments to open at 50% capacity.
"We worked for three months with the (state) Liquor Enforcement Division and the governor's office to develop opening guidelines for our industries," said Cassidee Shull, CAVE executive director.
It helped that the COVID caseloads here were much lower than in other parts of the state, she said.
Outside Mesa County, wineries are limited to either 25% capacity without food or 50% with food available. This could mean having an onsite restaurant, a food truck or simply making available menus from a nearby restaurant.
"With the restrictions it's been difficult, but it's working out," said John Barbier of Maison La Belle Vie Winery near Palisade. "We've been open for awhile because we have a restaurant at the winery."
Local wineries initially saw a surge in visitors from the Front Range who were eager to travel, to spend money and to enjoy Colorado's wine country.
ONE NOTE OF INTEREST
Wine clubs in Colorado and nationally saw a marked increase in membership during the closure.
"We're up to 800 members now," said Cailin Portra of Carlson Vineyards Winery in Palisade. During the closure "we still could get our wines to the members and they were eager to show their support of our industry."
Nancy Janes and John Behrs of Whitewater Hill Winery in Grand Junction made a four-day trek to visit Front Range wine-club members.
With John as navigator, the twosome dropped off 95 cases of wine and logged more than 1,200 miles.
"I think the members really appreciated seeing us," Nancy said.
IF YOU GO
Wear a mask. Most wineries have hand sanitizer available. If you don't see it, ask.
Go in small groups and call before going because seating is limited. Be ready to pay by credit/debit card on a contactless iPad or something similar.
Not all places require this, but it's becoming more common to avoid unnecessary contact.
Sign the contact information list waiting at every winery. It allows health officials to track suspected COVID-19 spreaders.
It takes only a minute to read the establishment rules before entering. Some vary, but they all have one goal: to protect the workers and the customers.
"Basically, it's a lot more work for fewer guests," Black said. "But we're glad to be open."
MAKING DO
Wondering what to do now that Colorado Mountain Winefest has been postponed because of COVID-19?
You're not alone.
"We'll really miss it," said Brandon Black of Mesa Park Winery. "It's a great way to meet our customers and for them to get to know us."
Instead of gathering 6,000 people in Riverbend Park, CAVE and member wineries this summer will offer interactive webinars featuring Colorado winemakers and their wines.
The first event, which took place Sunday, was titled "Two Wines/Two Regions/Two Stories," and features Jayme Henderson and Steve Steese of The Storm Cellar in Paonia and Corey Norsworthy of Plum Creek Cellars.
Henderson and Steese were to pour and discuss their 2018 Riesling and 2018 Chardonnay from the West Elks American Viticultural Area (AVA) while Norsworthy will offer insights on his 2019 Riesling and 2016 Chardonnay from the Grand Valley AVA.
"We're excited to offer these wines for our first webinar," Shull said. "They'll talk about the wines, of course, but will be able to answer specific questions from the webinar participants."
Complete information on how to participate and where to buy the wines is available from the CAVE website at winecolorado.org.