Avant Vineyards
---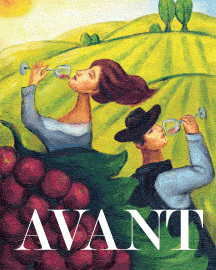 3480 E Road
Palisade
Diane & Neil Guard
(970)216-9908
avantvineyards@aol.com

Hours
Open May thru September Fridays 12 - 5pm, Saturdays 11am - 5pm, Sundays 11am - 4pm. Saturdays 11-5 in April and October. Otherwise by appointment.
Avant Vineyards is an award winning winery and vineyard with an intimate tasting room with beautiful views overlooking the Colorado River,  Mt. Garfield and wildlife refuge below. We offer white, rose, red and sparkling wines from estate grown, high quality grapes.
Bring a picnic to enjoy with our lovely wines and amazing view!
At AVANT Vineyards our winemaking philosophy is simple: keep the process natural and allow the character of the fruit to come through. We make our wines in hand-crafted small batches from top quality estate-grown grapes. Our high desert environment, where cool nights turn into hot sunny days, make the ideal conditions to ripen and intensify the flavors of the grape. Our dedication and care are in every step, from growing the grapes to bottling the wine. We think these delicious wines will satisfy the most demanding wine aficionado. Please visit and enjoy the relaxing Avant experience. Cheers!
Varieties
Red Wines
Malbec
Petit Verdot
Cabernet Sauvignon
Sangiovese
Cabernet Franc
Tempranillo
Rose Wines
Cabernet Franc rose'
Syrah rose'
White Wines
Viognier
Rousanne
Sauvignon Blanc
Other Styles
Plus, blends of our various varieties