By: Ed Sealover | Denver Business Journal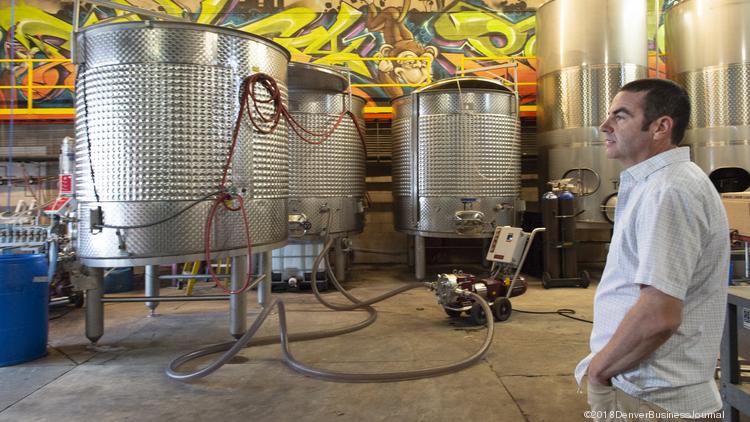 As owner of Snowy Peaks Winery in Estes Park, Candice Mohr has worked around floods, fires, road closures and government shutdowns that dried up the tourists who account for the vast majority of her sales. But she kept sending wine over and over again to Wine Enthusiast magazine, hoping that editors noticed the quality of her products.

In November, Wine Enthusiast rewarded her five years of persistence with a 90-point ranking for the winery's 2016 Mourvèdre — an honor that came one month after the highly regarded site JamesSuckling.com awarded Snowy Peaks' 2016 Elevé 92 points in a very laudatory assessment of 47 different Colorado wines. Suddenly it wasn't just the eyes of Rocky Mountain National Park visitors that were on the small winery that produces only 2,700 cases per year; it was the eyes of the American wine- drinking world.
In fact, in the past year, the leading voices in that world have taken a shine to Colorado. Wine Enthusiast called the Grand Valley one of the top 10 wine getaways in the world, and USA Today readers chose the Palisade-Grand Junction area one of the 10 best wine regions in the country. Food + Wine magazine ranked Denver's Infinite Monkey Theorem as one of the 10 best urban wineries in America. And Robert Parker Wine Advocate graded three wines at 90 points or higher while declaring the state's sector to be "increasingly interesting."
Yet, for all for that love, Snowy Peaks hasn't seen a flood of orders coming in. Infinite Monkey Theorem's in-state bottle sales in 2018 were flat. And restaurants and liquor stores have not, for the most part, ramped up the local offerings they are selling to customers.
Thus, the Colorado wine industry, which 15 years ago was regarded as a fruit-heavy sector whose appeal was largely to in-state travelers wanting a weekend getaway to the Western Slope, is at an interesting crossroads. No longer is the country looking down its nose on the roughly 150 winemakers that comprise the state's sector. But even with that improvement, the industry is having a hard time drawing the attention of Coloradans.
There are several reasons for that. Most of the state's winemakers are quite small, and many don't distribute much, if at all, outside of their tasting rooms. Other wineries favor higher-profit bottle sales to visitors over lower-cost glass sales at restaurants, which raise their profile among Colorado's prolific wine drinkers. And, according to the most recent study that asked the question, a majority of Coloradans who drink wine still do not buy from in-state producers, whether because of price or perceived quality issues or other reasons.
To grow the industry, all of those things must change. Some of the transformations are in progress; others are not.
But for maybe the first time in its history, what Colorado wine needs now is not a significant improvement in quality. That's happened already.
"There's no doubt there's better wine than 10 years ago. It's very consistent," said Ben Parsons, founder of Infinite Monkey Theorem. "The wineries have to stand up and say 'I'm making good wine. I'm sending it to national publications. I'm getting the coverage. I'm getting the stories. You need to pay attention to it.'"
The drinkers are here
Colorado's wine industry generates $3.2 billion in economic impact per year, according to a 2017 study prepared for WineAmerica, the national association of American wineries. It employs 15,630 people directly, is responsible for $480 million in wages and generates 267,648 visits a year to its various wine regions, including the Grand Valley.
But of those direct jobs, 13,013 — 83 percent — are in retail. And the vast majority of those workers aren't spending most of the their time selling Colorado wares.
According to a 2014 study conducted for the Colorado Wine Industry Development Board, just 5 percent of the total spending on wine in this state went to products from Colorado wineries. And 63 percent of buyers reported that none of the wine they purchased was from this state.
It's not that Coloradans don't drink a lot of wine. That same study put their consumption, 3.1 gallons per capita annually, higher by 19 percent than the national average. And state residents have such a reputation for being wine connoisseurs that international wineries with limited presence in the United States have come here to get their products distributed, said Christopher Davies, CEO of Wine Country Network of Broomfield, a media and event company that hosts the annual Denver International Wine Festival.
Partly because of that, it is harder to turn the heads of Coloradans toward wine that is made locally instead of wine made in California, Italy or France, Parsons said. Sometimes he's even done tastings where people have enjoyed a local wine — until they were told it was produced in Colorado.
"There are a lot of people who know this is a great market for wine. And that's what the local guys are up against," Davies said. "And that's why many choose to keep their wines on the Western Slope."
Indeed, the lauded Grand Valley is the primary recipient of the $109.9 million in annual tourism expenditures, according to the WineAmerica study.
About two-thirds of those visitors are estimated to come from in-state, according to the earlier Wine Industry Development Board report — more than the 58 percent of California residents that account for the local share of that state's wine tourism. And that local focus gives Colorado wineries an unusual chance to capture customers both during their visits and after they return back home — if they can get their products into Front Range restaurants and liquor stores.
Colterris, a Palisade winery, increased its production from 6,000 cases in 2016 to 14,000 in 2018 to do just that, owner Theresa High said. It has signed with a statewide distribution company, Breakthru Beverage Group, and hired a representative in the Denver area to work with restaurateurs and store buyers and to present its products at tastings. That has drawn more attention both to its retail products and its tasting rooms when visitors venture west.
"The reason I believe we're getting the attention we're getting is because we're making really good wine and we're putting it in an acceptable package," High said. "You have to have enough production for people to come back and buy your wine again if they like it, because if it's not available, they will find something else."
Cost and scale
But Colterris is in many ways an outlier to the state scene. A winery like Snowy Peaks is maxed-out in its production capacity by selling 98 percent of its wine through its tasting room and the other 2 percent at restaurants around the Estes Park area. It's seen a little bit of growth in interest since it began getting national accolades in the past year, Mohr said, but not a ton, even from nearby Denverites.
Parsons believes that the lifeblood of any winery is its ability to sell by the glass in restaurants, as that will inspire people who like it to turn around and seek it in stores as well. He spends a lot of time speaking at seminars and working to educate restaurant staff on the wine. And Infinite Monkey Theorem just opened a new tasting room in Fort Collins, in addition to beginning limited shipments to China.
But to sell wine by the glass, bottles must be priced low enough to allow for that wine to be accessible to the general public. And the 2014 Colorado Wine Industry Board study found that wine made in Colorado averaged $16.68 per bottle, versus a nationwide average price of $6.22.
Even when wineries may have interest in selling beyond their taprooms, many are too small to have a serious distribution business — and almost none right now send their wine out of state to garner a bigger audience, said Doug Caskey, executive director of the state industry development board. That limits the selection available off the Western Slope.
As Colorado's population swells, the wine industry should be growing at least along with it, if not at a greater rate, said Parsons, a pioneer of canning wines who has opened an Infinite Monkey Theorem winery in Texas and who is credited by Caskey with transforming the way that Colorado wines get marketed and noticed. But to do that, wineries have to get their wine where people go to drink it rather than expect the whole state to come to their vineyards and tasting rooms, he said.
"I do think pricing can be an issue, for sure," Parsons said. "So, wineries need to be aware that if they're going to start getting placements on restaurant wine lists, they've got to accept a decent price point."
Time and persistence
What those Coloradans who are not drinking local wines are missing, however, is a scene that is very different from the early 21st century.
While early Colorado entrants into the wine sector were largely hobbyists without professional experience, a new generation of winemakers has invested in staff with deep roots in the industry. High, for example, hired two veteran winemakers in the past decade — one that she was able to recruit from Napa — and has received a flurry of attention for Colterris' wines in part because of that.
Caskey and state wine-industry leaders also have begun offering more education, particularly when it comes to growing grapes in Colorado's often harsh conditions. Famous California vintner Warren Winiarski, who won the Judgment of Paris competition in France in 1976, advised local wineries for a number of years — a development that Davies said had a particularly good impact on Colorado wine. And the industry board received a grant just this year to hire a viticulture extension specialist at Colorado State University to help grape growers improve their methods.
Grape harvesting has improved dramatically in recent years as well, as the professional vineyard keepers are starting to understand more how to work with Colorado's climate, in which periodic droughts can cripple the state's supply of the fruit. Mohr noted that one of the reasons Snowy Peaks has yet to invest in expansion is because the supply of grapes coming into it from various vineyards with which it contracts can be so sporadic from year to year.
High said that one of the first things she did when planting vineyards in the mid-2000s was to study which grapes grew best in those conditions rather than to decide which varietals she wanted and then see how the terroir reacted. One of her key discoveries was the similarity of Palisade weather to that in Mendoza, Argentina — leading her to plant Malbec grapes that have helped win Colterris acclaim.
"I think the grape growers are starting to better understand Colorado's unique climate and soil," said Parsons, who gets the grapes for his bottled wines in-state and sources the fruit for his internationally distributed canned wines from out of state. "Every year they make small changes. And those small changes lead to better quality in future years."
Much like in other states with more mature wine industries, Colorado needed time to improve in a lot of ways, Caskey said.
"The more time we have under our belts, the more insight and experience we have on which grapes grow well and which ones are not excelling and meeting the needs of the climate," he said.
Similarly, it was a matter of time and persistence to grab the attention of national wine reviewers who receive countless bottles each year for tasting. Snowy Peaks, for example, got a mention in Wine Enthusiast magazine in 2013 and a few bites on its website since then. But it was this year, as Colorado winemakers started to flood national sites with more products, that they finally got the payback for their efforts.
One thing that is notable about the attention being paid to the local industry is that it's not heaped solely on just a couple of wineries. Nor is the love confined to wineries in any one region of this state.
Wine Enthusiast also gave 90-plus-point rankings to offerings from The Winery at Holy Cross Abbey in Cañon City, as well as Sutcliffe Vineyards in Cortez. Robert Parker Wine Advocate's targets of praise included BookCliff Vineyards of Boulder and Monkshood Cellars of Minturn.
High said that Colterris is looking to share its expertise with other Western Slope wines, in hopes of raising the quality level of the whole region and beginning to attract more out-of-state oenophiles, as Napa and Sonoma in California do.
Davies, meanwhile, said that he finds that the Denver wineries he works with, particularly Balistreri Vineyards, have the hardest time keeping their wines in stock because there is so much growing interest from Front Range residents, mirroring in a smaller way the rush to brewery taprooms that has grown into a tsunami wave in the past 10 years.
"They sell their wines as fast as they can make it," he said.
With the rising national and local attention, wineries are beginning to think bigger.
High said Colterris would like to build its production to the point where it can begin sending wines out of state in the coming years. Mohr said Snowy Peaks would like to begin distribution if it find extra production capacity.