Colorado State University has added a new position based out of its Orchard Mesa Research Station to help disseminate information about its viticulture research to Colorado growers and provide general educational resources.
The Viticulture Extension Specialist position is funded by the Colorado Association of Viticulture and Enology (CAVE) and the Colorado Wine Board for 21 months. Miranda Ulmer, the first person to hold the position, has been working in Grand Junction since mid-July.
"Basically I'm here to help educate the growers and the end goal is to improve the quality of Colorado grapes," Ulmer said. "The first thing they wanted me to do is conduct a survey. The goal was to address the educational needs of the industry and also to determine the industry's optimism."
The results of that survey will guide how the program evolves going forward, Ulmer said. It asked questions about everything from the variety of grapes being grown to how they'd like to receive educational material. In addition to the survey, Ulmer said she has talked to local wineries about their needs and concerns.
"The main issues that people are dealing with are winter cold damage, irrigation and then phylloxera — it's a bug that attacks the roots," Ulmer said. "It's pretty new to Colorado. Fields that have phylloxera deteriorate, not super quickly, but eventually they will."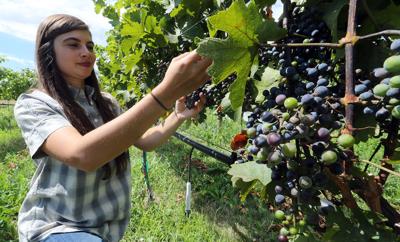 One of the main reasons the new position was created was to provide a contact who could relay information on viticulture research being done in Orchard Mesa by CSU for local vineyards.
"We have a researcher, (viticulture professor) Horst Caspari, who is in this same building," Ulmer said. "We have grapes outside. He does rootstock trials, cover crop trials. My job is to help get that information out and help make it relevant to the people who actually need it."